Hi LoveBirds,
This time around I have chosen His For Keeps: 50 Loving States, Tennessee by Theodora Taylor. The category… hmm this is a hard one.(Pun intended) I am going with Bad Boy on this one.
Here's what I think:
Wow, what a good story. This book had me doing a double take. I don't think I have ever enjoyed a book so much and disliked all of the characters, except one. It's kind of sad when the only character you like ends up dying.
Kyra was too much for me. She was messed up because of a selfish mother, but from the beginning of the book she rubbed me the wrong way. I just couldn't understand her thought process. Why did she become Mike's concubine after knowing what her mom went
through? It was just weird. Then her infatuation with Beau was odd. It didn't make sense until almost the end of the book. Even then, her hoeing around with Mike when they were teens still didn't make sense. She never even got to hang out with Beau and allowed herself to be treated like yesterday's trash for the purpose of being near him.
Colin was another confusing character. His lack of emotion when his mom died was a red flag for me. When his "monster" reared its ugly head, it was a mess. He liked what he liked sexually and that was cool, but I hated how he treated Kyra when he was actually angry. And throwing his money around like he could buy her pissed me off.
With all of the weird and crazy characters running around this book, the highlight was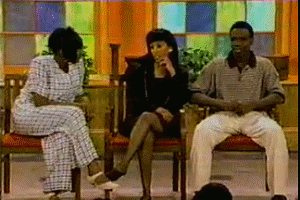 Grandma. Lawd! When she told the story of her snatching wigs, I hollered!!! That scene was so funny.
Overall the storytelling of the author kept me tethered to this book, so much so that time got away from me and I had to rearrange my schedule. Lol However, I loved every minute of it.
Four kisses for this one!
To read His For Keeps for yourself, click here.